Happy New Moon Beautiful!!!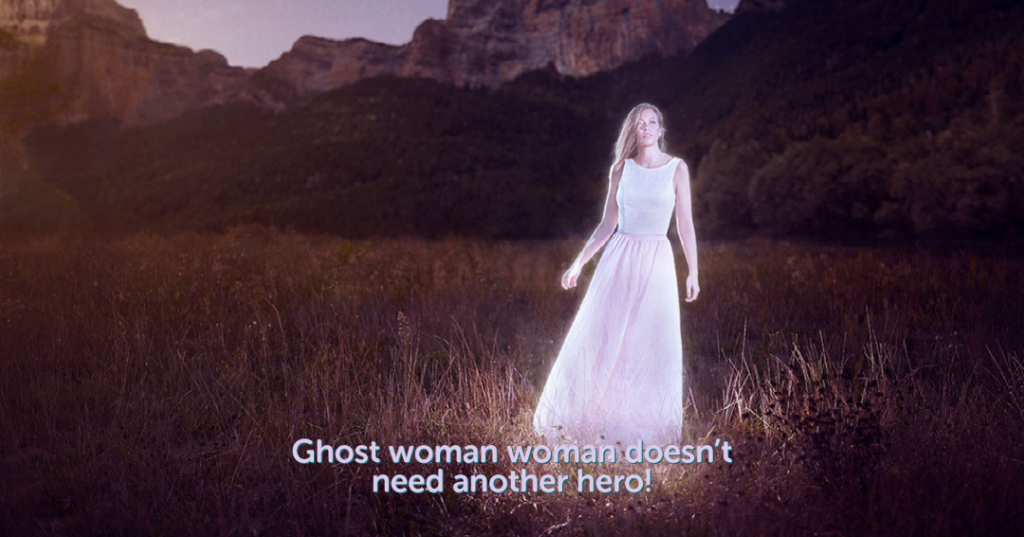 I met a woman once.
She was broken to pieces and turned apart. She was confused and didn't really knew herself anymore. She gave and gave and gave, until she felt empty. She used to be a fighter, now she didn't remembered the cause that she fought for. Her back was bent as if she was caring the weight of the whole world on her shoulders. She looked nice on the outside, but her eyes were revealing that she missed a spark within. She used to be a lover, now she was wondering where did all the LOVE go?

I called her the Ghost woman.
Ever since I met her, I met some other women alike. They all want the same: to be seen, to be fully seen and to be accepted. They all want to ease the heaviness that weights them down. They all want to rekindle the spark of passion and the joy of life once again. They all want to remember how worthy they are of LOVE. They all want to stand fully in their own power, embracing who they really are from within.

Oh, I know this woman so good. I was a Ghost woman and that craving of knowing myself from within, made me travel in the depths of the Amazonian rain-forest to find my essence again. It was the heaviness, the pain, the suffering, the aloneness, the tiredness of all the things I was not, that made me realize how important it is to have a guide on this journey of coming back to fully living. Someone that reached that point inside themselves.

Ghost woman didn't needed another hero, another expert over her life, she just needed someone to guide her, someone to believe that she can do it, that she can become her own hero, the creator of her own life, her own Creatrix.
She did it. And in the past 8 years, I had the honor to see many other women – in the programs and retreats – turning their own life to fully living once again.

Creatrix You is one of this programs. Allow me to share with you the steps towards it:
We meet up in Sardinia on 13th of October. – An important element in this journey is to allow yourself to experience something new, a new environment, outside of what you consider familiar.
4 days and 3 nights – enough time to explore deeper the own being.
A group to hold, to honor and witness your transformation, to welcome and support you while you return in your own true nature.
Time to enjoy the sea, the sun and integrate the work in the morning.
Afternoon group work every day.
Ceremonies in sacred sites.
Group of support after the journey.
To make sure the energy invested – on both sides – no matter if is in form of pure energy, knowledge, time or money, would bring the best results, you are offered a complimentary private meeting before departure.

Ghosts walk on this Earth until their time comes up. In secret they want to be transformed. Life is looking to fill them up again with passion, purpose and love. Life, the Universe needs them to transform, so in divine timing to bring that sacred alchemy and knowledge of their experience further.

Let's set up a meeting and see if we can work together. Just click here: Registration.

***

You can still benefit of the early bird offer by registering to Creatrix You – embody the creative power within, Sardinia – 13th – 16th October, until 1st of September.

Starting with 1st of September the cost for all private sessions and packages will change. You can still purchase your sessions at the current rates. Depending on the number of sessions you want to purchase, there is a time validity.

DNA Activation sessions available. Details here: DNA.

***

It seams that everyone runs of her, of the Ghost woman. There is nothing wrong with her. Just like the Moon and the whole Nature, she rolls in cycles. She needs the darkness, the inwards, the down to Earth aspects to be able to anchor and shine fully her light.

This is an auspicious time to give yourself permission to dream and set your intentions.
Happy New Moon!

Not a subscriber yet, but you want to be up to date with what is going on in the Creatrix world, what magical things are happening and what events we prepare?
You can register for the newsletter here: Yes, I would like to receive news from you.
Lots of love,
Heart to heart,
Soul to Soul

Andreea Cristina Chiș 
Sprouts of Light
Creatrix You